LetsTalk100 – AI for our Future
23.08.2023
Debate Series – Artificial Intelligence and Our Future



19 September – 19 December 2023 at CERCLE CITÉ – Auditorium Henri Beck, City of Luxembourg
Moderation: Dr. Nora Schleich | Host: Prof. Christoph Schommer
Hybrid event: Link will be made public 1 week before each debate takes place.
Register here: lets.talk100@uni.lu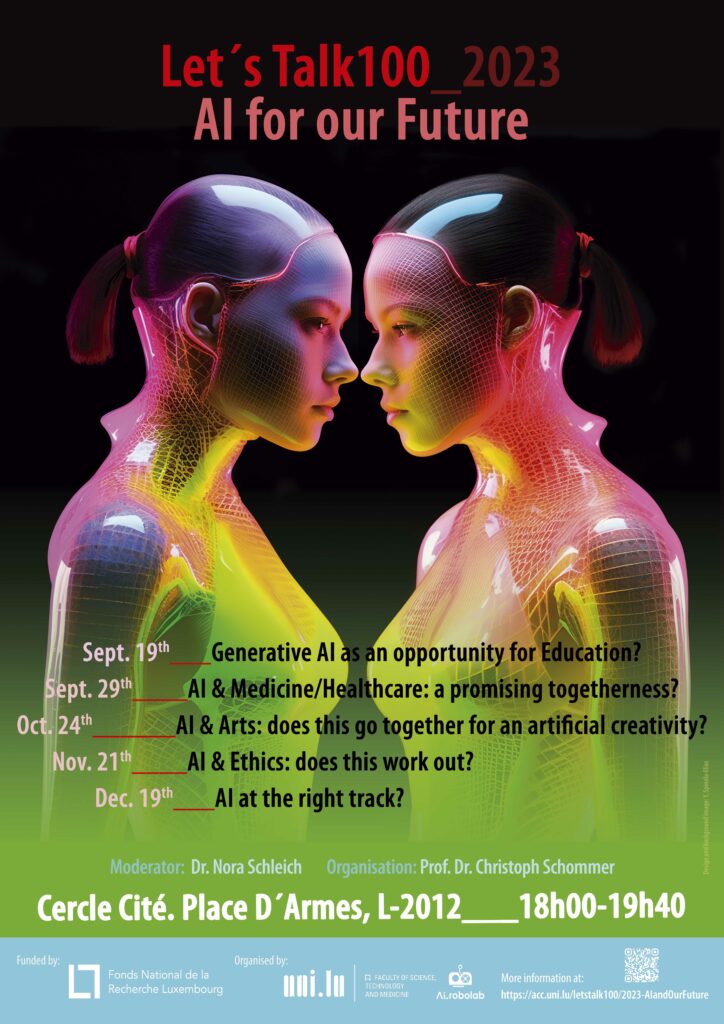 Why this debate series?
The debate series called 'LetsTalk100 – AI for our Future' is a series of debates to shed light on the topic of AI for society here in Luxembourg. The debate series deals with the topic of Artificial Intelligence in the form of a dispute between two experts and the audience based on a discussion statement
While the two experts take on the role of proponent (yes) or opponent (no) and also back this up with a short explanation, the participants (on site and virtually) have the task of shaping the discussion with questions and critically following the experts' answers. A discussion from participant to participant is also quite desirable.
At the beginning and end of the event, a vote will be taken to determine which initial position the audience represents and which speaker was more convincing with arguments. Questions can be asked in English, Luxembourgish, German or French.
Program: 
19 September 2023, 18h00 – 19h40: GENERATIVE AI AS AN OPPORTUNITY FOR EDUCATION?
29 September 2023, 18h00 – 19h40: AI AND MEDICINE/HEALTHCARE: A PROMISING TOGETHERNESS?
24 October 2023, 18h00 – 19h40: AI AND ARTS: DOES THIS GO TOGETHER FOR AN ARTIFICIAL CREATIVITY? 
21 November 2023, 18h00 – 19h40: AI AND ETHICS HAND IN HAND?
19 December 2023, 18h00 – 19h40: AI FOR OUR FUTURE – ARE WE ON THE RIGHT TRACK? 
The programme naming all participants and further details can be found here: www.uni.lu
Organised by the University of Luxembourg with the support of Luxembourg National Research Fund.